About the Advanced Pāli Reading Course
Every year, the OCBS hosts the Advanced Pāli Reading Course in Oxford, United Kingdom. The course mainly consists of reading Pāli texts together in class. The texts are from different genres, like poetry and commentaries but have in common that they require an advanced proficiency in Pāli Grammar, Syntax and Vocabulary. 
Usually, the students are housed in Clive Booth Student Village, which is owned by Oxford Brookes University and only a short walk from the seminar room where the course takes place. Below some students of the 2019 cohort share their experiences. We thank them for their permission to post these impressions here. Hopefully, we can welcome even more students in the coming years!
A Fun Course - By Stefan Karpik
What a great sixth day! We started with Professor Gombrich going through the commentary to the Mahāparinibbāṇa Sutta. This is full of Pali scholarly conventions that aren't explained in any book I know and Prof Gombrich is our reference book! Then Prof Gombrich took us through anuṭṭtubha metre examples, pointing out irregularities and how they are resolved. During the lunch break, a classmate sent me a pdf of a book I was interested in. Sharing resources in usual there is camaraderie on this course. 
Dr Wynne took over in the afternoon with Jātaka 465, which is brilliant story-telling combined with the occasional knotty point. Over tea there was discussion on the origins of Pali, an obsession of mine. In the evening our study group did an hour and a half of singing the metres of the Muni sutta once we had worked them out (and annoying our flatmates who were very stoic). Then what to do for fun? I've been having fun all day!
A Pāli Course in Pictures - By Rajendra Bhalshankar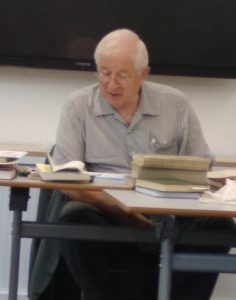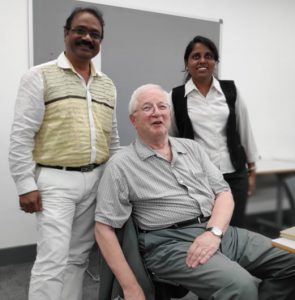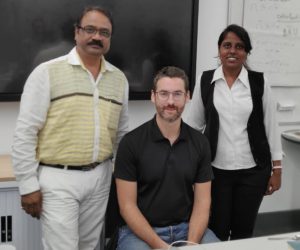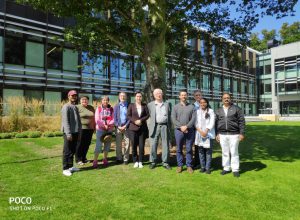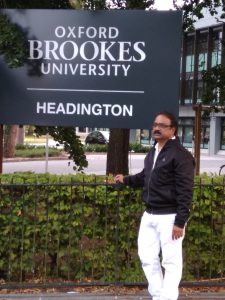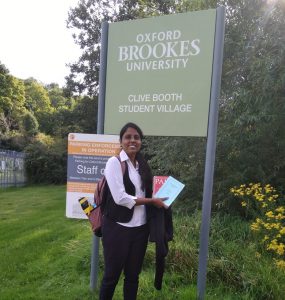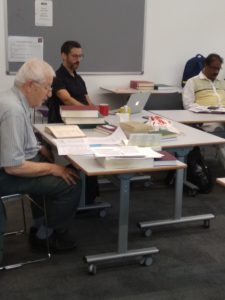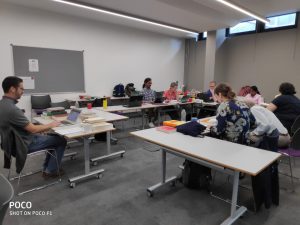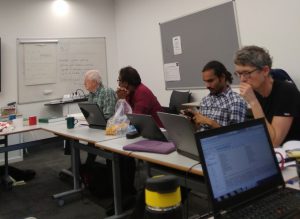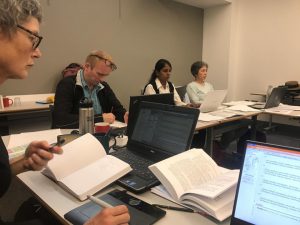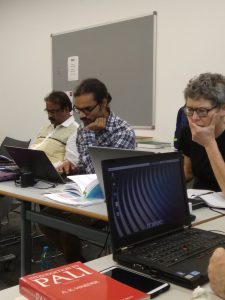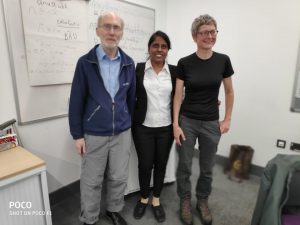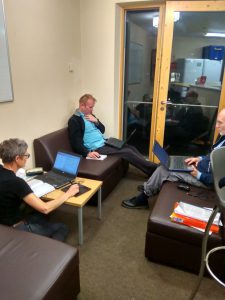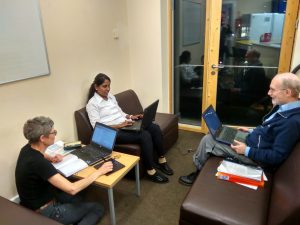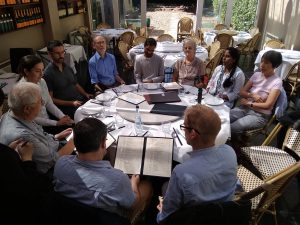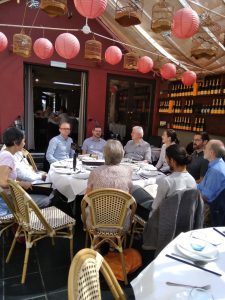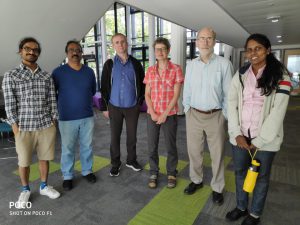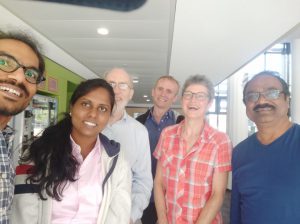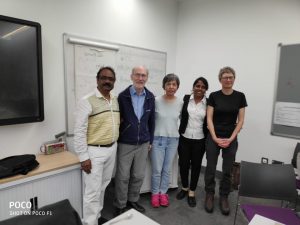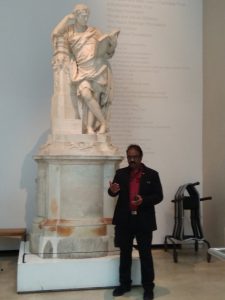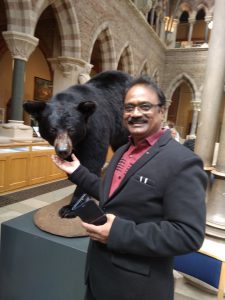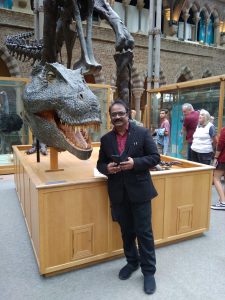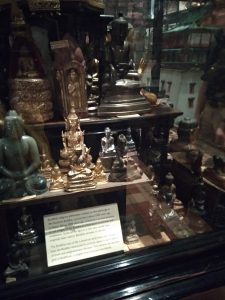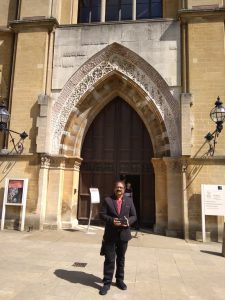 Learning Something New, Every Day - By Megha Tayade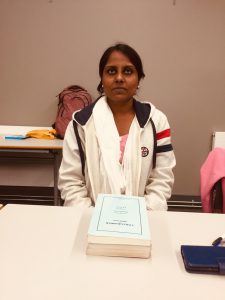 Pāli Commentarial Literature:
1. Mahāparinibbāna Suttavaṇṇanā from Digha Nikāya,
2. Visākhāvatthu from Dhammapada of Khudddakanikāya,
3. Baddhasālajātakavaṇṇanā from Jātakaṭṭhakathā
Pāli Poetry:
1. Dhaniyā Sutta,
2. Brahmaṇadhammikasutta,
3. Khaggavisāṇa Sutta,
4. Muni Sutta
9.30 – 9.35 – Venerating the Triple Gem
9.30 -11.00 – Reading of Commentary
11.00 -11.15 – Tea/Coffee Break
11.15 -12.45 – Poetry
12.45 -2.30 – Lunch Break
2.30 – 4.00 – Reading Commentary
4.00 – 4.15 – Tea/Coffee Break
4.15 – 5.30 – Reading Commentary
5.30 – 6.30 – Class Ends for the Day
6.45 – 8.00 – Group Studies (we were divided into 3 groups with 3 members in each group)
I came from India (Department of Pali, University of Mumbai) and arrived at Oxford Brookes on 14th August 2019, around 4.45 P.m. and reached the reception of Clivebooth Students Village, Where Mr. Steven welcomed me with a smile on his face. At the reception area at the same time i saw a very cute lady named Annlee smiling looking at me and i came to know that she too was the participant for the 'Advanced Pali Reading Course'. So right from the time I arrived I felt as if I am in my own hometown. After that, the boy named 'Lookman' guided us towards our room. Even the smallest details were taken care of, so it was really comfortable for me to proceed with the course.
At 9.30 a.m. the class starts by venerating the Buddha, Dhamma and Saṅgha and then the class proceeds with the reading of various Pāli commentarial literature, and study of meters in Poetry and is followed with discussion on various grammatical aspects of the Pali language. Each and every word is broken down to dig out the exact meaning of the word. Also while studying literature along with grammar we do study the social, political, historical, cultural aspects of ancient India. 
Prof Richard Gombrich and Dr Alex Wynne are really the best teachers to be found in the world of Pali Learning, because in the class they make us feel so comfortable that we can put forth our queries in front of them without any hesitation. Really each session is a brainstorming session, we cannot afford to miss a bit of it. 
Each and every day of the course has taught me something new about Pali learning that I was never aware of. As a student, i never liked grammar as a subject since my childhood but because of the unique teaching technique of Prof Richard Gombrich and Dr Alex Wynne I never knew when I actually started liking grammar, it happened automatically. 
Pali Reading Sessions are helping me to note the difference in the Pali language of the various commentarial text. It's really very interesting to know about many new words which are most probably used only in commentaries. 
I am really happy to learn about meters in the poetry. Now I know and could understand the technical terms of meters like Vetāliyā, Opachandaka, Mattāchandas, Akkharachandas, Anuṭṭhubha, Ṭuṭṭhubha and Jagatī and could study based on this basic knowledge. 
Also, the course is becoming more interesting because of the group studies we are doing every day after the class. We are a group of three members namely Stefen, Evon and myself, we do assemble after the class and revise everything whatever is done in the class and solve each other's doubt. So I am really grateful to both of them, really enjoying their company. 
I feel confident enough that I could read and understand Pali text on my own along with proper grammatical understanding of each and every word……..yes I have to be consistent in reading Pali texts and will have to continue with this work to progress. This course has really made my foundation strong for learning Pāli in a right way. 
I had never done translation of Commentaries and Meters in Pali before, this course has enabled me to extend my horizon of study and research by entering into Commentarial literature and Meters in Pali Poetry. I am really fortunate to learn it the right way from the two most eminent Pali Scholars of the world. I am happy that I have many things to take with me back to India from this course.